Shri. Sunil Awachat (Flute)
Accompanied on tabla by Shri. Charudatta Phadake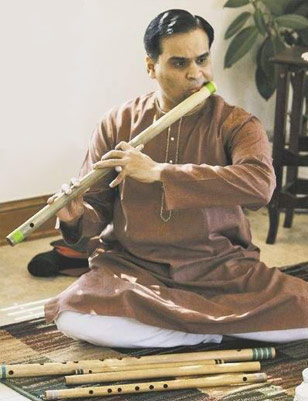 6:30 PM
Tuesday, 13th December, 2011.
Venue: Vishwabhavan auditorium, Symboisis.
About the artist:
Sunil Avachat is a promising, talented young flautist belonging to the North Indian Classical style of music. His love for the Flute became evident in his school days when he started playing it in the school band. His parents sensed immense talent in him and introduced him to Pt. Arvind Gajendragadkar at Pune's famous flute institute 'Venuvandana'. In the five years of rigorous training under the tutelage of Pt. Gajendragadkar, Sunil received basic lessons of flute playing, notation reading, basic raga knowledge and he successfully completed five examinations with distinction, conducted by 'Gandharva Mahavidyalaya'.
The year 1995 proved to be a big turning point in Sunil's musical journey, as he got a lifetime precious opportunity to be the disciple of legendary flautist Pt. Hariprasad Chaurasia. With Panditji, he learned truly traditional style Indian music of 'Maihar' school. Under Hariji's tutelage, he acquired subtle, finer specialties in flute playing; this was possible only due to traditional 'Guru-Shishya' style of learning, he feels.
C
Charudatta Phadke received his early training in Kolhapur from Majgaokar and Rajaram Jadhav. Thereafter, he has been refining his art under the tutelage of famed tabla player Suresh Talwalkar who he accompanies for various programmes. He has been featured as an accompanist and soloist in India but also abroad.
He participated in Taalyatra, a project conceptualized by Suresh Talwalkar and performed in Bangkok. He is also involved in a Kathak-Flamenco project since year 2000 as a cultural exchange between India and Spain.
He has received various awards like V.D Paluskar and Taalmani award. He has accompanied several artistes.
He has participated in cross-cultural collaborative concerts with Chinese and Japanese groups among others.